WARMING UP FOR PRACTICE
A CASE STUDY IN A HOLISTIC APPROACH TO GAME IMPROVEMENT
THE GOLF SWING AND GOLF FITNESS: A MATCH MADE IN GOLFING HEAVEN

Presented by Ian Corbett, your fitness & conditioning specialist
& Steph Spies, your AAA-class PGA and Gary Player teaching professional

Now that our students understand the necessary exercises to address their physical limitations, as well as the technical drills to improve their swings, we focus this issue on physical preparation for an effective practice session.

"Starting the engine" is about body preparation movements to activate the muscles and create body awareness of what will follow in the practice session.

Case Study 1
Anri's first warm-up movement involves standing on one leg and pulling her knee straight to her chest, then holding that position for a count of three. Anri must switch legs and repeat this action at least three times.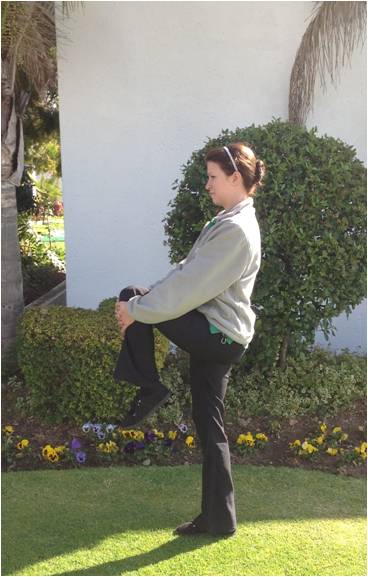 Anri's second warm-up is a simple toe-touch exercise. From a standing position she bends forward from the hip, keeping her legs straight as she tries to touch her toes. Again, Anri holds this position for three seconds and repeats it three times.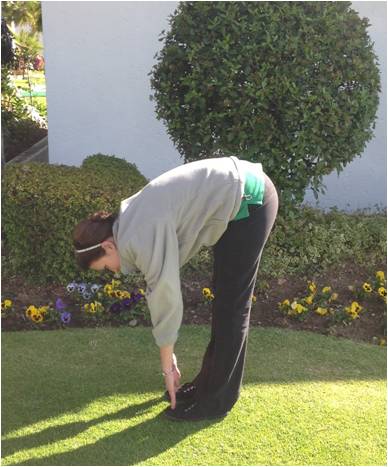 These simple movements, when performed consistently before practice sessions, will go a long way towards helping Anri address her physical and technical challenges.


Case Study 2
Gary's technical problem of swaying off the ball due to his lack of hip mobility calls for the following two warm-ups:
• Deep squat: Gary makes a deep squat with his heels flat on the ground (or as close to flat as he can manage), then hold the position for three counts and repeats the squat three times.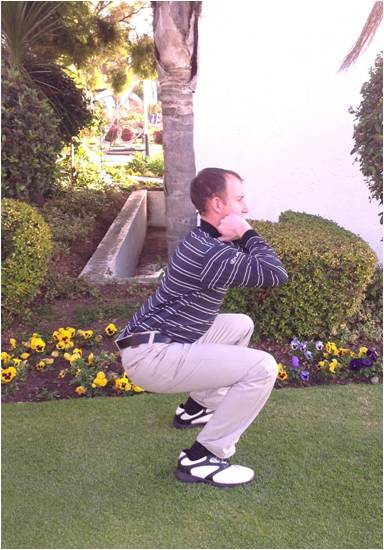 • Torso turn on one leg: Standing on one leg, Gary crosses his arms over his chest and assumes a good golf posture. He then tries to rotate his torso whilst maintaining good posture.




Case Study 3
TJ's scapular stability issue requires the following body preparation:
In exercise 1, he places his arm out to his side and flexes the elbow to 90 degrees, then lifts his arm to 90 degrees. Next, placing his forearm against a wall, he rotates his chest open, thereby creating a stretch in the upper pectoral muscle and the shoulder. Naturally, this exercise must be repeated on both arms.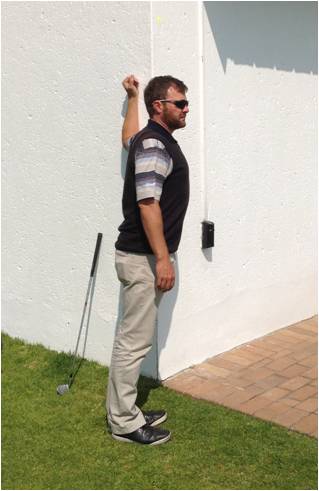 In TJ's second exercise, he stands tall with his right arm in the 90/90 position, holding a golf club in his left hand. He allows the club to drop behind his elbow and he reaches around the front of his body to grab the bottom of the club with his right hand. Finally, he gently pulls the club forward to stretch his shoulder. The position should be held for 5 seconds and repeated on each side.